Campgrounds and Lodging Accommodations for Utah's Green River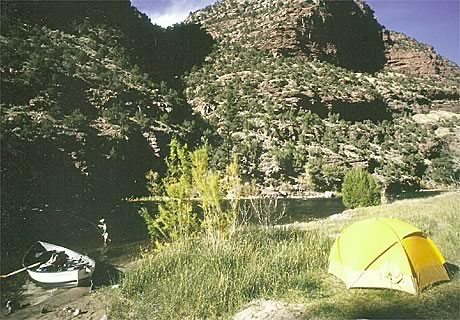 Camping. The most popular campsites that are closest to the river are Mustang Ridge, Deer Run, Cedar Springs, Dripping Springs and Fire Fighters Memorial.
Forest Service Campgrounds are located throughout Flaming Gorge National Recreation Area and range from primitive, dispersed sites, hike-in/boat-in only sites, to single and group campsites with water and flush toilets. The recreation area enforces a 16-day limit per site.

Seasons
Some facilities and services may be seasonal; contact the Flaming Gorge Ranger District, Ashley National Forest for more information by calling 801-784-3445 or writing PO Box 279, Manila, UT 84046. The campgrounds officially begin taking reservation about April 11, but many are open on a first-come basis.

Hookups
Forest Service Campgrounds do not have hookups; the Conoco station in Dutch John, as well as private campgrounds in Manila and Vernal, Utah and Green River and Rock Springs, Wyoming offer full service campgrounds.

Showers
Cedar Springs, Deer Run and Firehole campgrounds are the only forest Service site with showers facilities. Commercial showers are also available in Dutch John at the Conoco station, as well as Green River Outfitters.

Reservations
Some campsites may be reserved in advance by calling 1-877-444-6777.
Or you can now make your campground reservations online by clicking on this link to NATIONAL RECREATION RESERVATION SERVICE . Please note campground reservations cannot be made past Labor Day as the campgrounds are officially closed for the remainder of the year.
Boat-in/Hike-in Campgrounds on the Green River
There is no camping allowed on the "A" section of the river, but they have nice, improved boat-in campgrounds on the "B" section between Little Hole and Brown's Park. Campgrounds are $15 per night, and you must obtain a permit. Permits can be picked up at the ranger station at Little Hole. Online boat-in campground reservations are accepted at four campsites: Big Pine 1 & 2, Bootleg, Cat's Paw and Trail's End only. For the other boat-in/hike-in sites you must pick your site and obtain your permit the day of your float. Twelve hike-in/boat-in campsites are available as first-come, first-served and pack-in/pack-out.
Below is an overall map showing the boat-in campgrounds.

---
Lodging Accommodations . Several good accommodations are available in the Dutch John area, including:
155 Greendale, U.S. Highway 191
Dutch John, Utah 84023
Phone 1-435-889-3773
FAX 1-435-889-3788
Highway 44
790 Red Canyon Road
Flaming Gorge NRA
Phone 1-435-889-3759
Spring Creek Ranch Road
Highway 191 Minnies Gap
P.O. Box 199
Dutch John, UT 84023
Phone 1-307-350-3005
Intersection Hwy. 191 & South Blvd.
Dutch John, Utah 84023
Phone 1-435-885-3355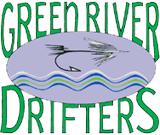 Permitted by Ashley National Forest